Television | Cinema | Music | Theatre | Sports | Modeling | The Arts & More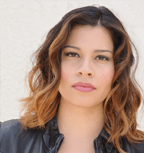 •Actress
I was born in Phoenix, AZ, but was quickly relocated to Tulsa, OK where I spent the first five years of my life running around the house with 15 dogs. After my parents divorced, my mom and I moved to Prescott Valley, Arizona where she met my step dad whom she divorced twelve years later. Growing up was rough, but luckily I met my very stable and very supportive husband, Josh, my senior year of high school. After graduation we moved to Tucson, AZ to attend The University of Arizona together. We became engaged and in 2004 we were
married. I quickly realized I hated school, which was a surprise to me because I was always on the honor roll. So with too much student debt, I dropped out. Done with Tucson, Josh and I moved back to our home town, Prescott Valley and got 'normal jobs'.
Depressed and unsure what to do with myself, my intelligent husband asked me a simple question, "What do you WANT to do?" When I answered
acting he replied, "Then do it." After coming up with a ton of excuses of why I can't, he gave me a stern look and said, "Figure it out, because I'm not putting up with you being a pain in my ass anymore." Extremely insulted I said "Fine" and then sat down at my computer to being my journey.
After signing with a local agency, I landed my first regional commercial, which is still running eight years later! I enrolled in as many classes as I could afford and drove 2 hours each way 3-4 times a week to Phoenix. I was running on fumes but loved it. One day my mom returns from Vancouver, BC and tells me there's a Native American network in Canada, and there are a lot of acting jobs up there. So without much research Josh and I packed up and moved to Bellingham, WA, right in-between Seattle and Vancouver. Quickly I realized this wasn't a smart acting move because it takes more than wanting to act to work in Canada. So with a bunch of down time, I joined an adult cheer team. For a year and a half Josh and I lived in Washington, and we loved it. I knew I had to make the choice to continue to pursue acting or stay with my new friends in a town I loved.
In June of 2011 Josh and I loaded up a moving truck and made our way to Burbank, CA our new home town. I hit the ground running as soon as I got here. Within two weeks I had my first audition which lead to my first job in LA. I began taking seminars and talking to fellow actors to learn the ropes. At the end of July I booked my first feature, in August I booked my first web-series. In October I enrolled in Carter Thor Studio, under the direction of Alice Carter. I learn so much every class, I'm constantly inspired. By December I signed on to a TV series, and another feature, that will begin filming soon.
In a short time of being here, I realized producing your own work is very important and in February 2012, I produced the pilot episode of T-WATS, with a full season planned. I have many projects in pre-production, including a play I hope to have ready in the fall, and a few more web-series. I've always been interested in modeling, so in my spare time I find photo shoots to entertain myself. Mainly, I like to write and work on future projects. I'm constantly excited for what's around the corner and that excitement keeps me motivated and moving forward.
SOME CURRENT PROJECTS: