[fusion_builder_container hundred_percent="yes" overflow="visible"][fusion_builder_row][fusion_builder_column type="1_1″ background_position="left top" background_color="" border_size="" border_color="" border_style="solid" spacing="yes" background_image="" background_repeat="no-repeat" padding="" margin_top="0px" margin_bottom="0px" class="" id="" animation_type="" animation_speed="0.3″ animation_direction="left" hide_on_mobile="no" center_content="no" min_height="none"][su_box title="Liz Giran" style="noise" box_color="#ddc535″]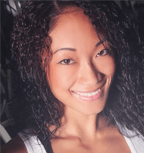 [su_spacer size="3″][su_button url="http://shire-productions.com/contact/" target="blank" style="noise" background="#ddc535″ color="#ffffff" size="6″ radius="0″ icon="icon: envelope-o"]Contact Liz[/su_button][su_spacer size="15″]
•Actor •Comedian •Model •Writer •Producer •Director •Athlete •Co-Owner/President of Operations of Shire Productions
Elizabeth Giran better known as Liz Giran was born in the summer of 1985. The third child out of 4. Her background is Filipino and Spaniard. She's married and has one child. She's been an athlete since the age of 10, participating in: track and field, basketball, and swimming. She now competes as a figure bodybuilder and has been successful in achieving placements with all shows she's competed at. She's nationally qualified and going for her pro card. She's the co-owner of LG Fitness (www.lgfitness.net). She also is the Co-owner/President of Operations for Shire Productions. She's worked on several films and commercials and can be found at imbd under Elizabeth Giran. Her petite figure and youthful look can fool you for the strength she truly possesses mentally and physically but is one of the sweetest and kindest people you will ever come across. She loves to dance and loves music of all genres. She enjoys working out and weight-lifting and takes full pride in doing so. Liz is a family oriented person and spends her free time with family every chance she gets.
For more about Liz:


SOME CURRENT PROJECTS:
[/su_box]
[/fusion_builder_column][fusion_builder_column type="1_1″ background_position="left top" background_color="" border_size="" border_color="" border_style="solid" spacing="yes" background_image="" background_repeat="no-repeat" padding="" margin_top="0px" margin_bottom="0px" class="" id="" animation_type="" animation_speed="0.3″ animation_direction="left" hide_on_mobile="no" center_content="no" min_height="none"]

actors, actresses, dance, dancers, hip hop, jazz dancer, Manager needed, Promoter needed, silent producers needed, producer needed, seeking investors, now casting,
jazz, blue grass, country, pop, rock, Rap,tapp, classical,
opera, alternative, sexy, hot. swing, musical artists,comedy, music, cinema, film, movies, television, videos, internet, streaming, theater, comedy clubs, standup comedy, musical theatre, modeling, runway, photoshoot, supermodel, petit modeling, cable television, sports, singer, song writer, vocalist, cinema photographer, director,producer.
athletes, professional athletes
[/fusion_builder_column][/fusion_builder_row][/fusion_builder_container]