[fusion_builder_container hundred_percent="yes" overflow="visible"][fusion_builder_row][fusion_builder_column type="1_1″ background_position="left top" background_color="" border_size="" border_color="" border_style="solid" spacing="yes" background_image="" background_repeat="no-repeat" padding="" margin_top="0px" margin_bottom="0px" class="" id="" animation_type="" animation_speed="0.3″ animation_direction="left" hide_on_mobile="no" center_content="no" min_height="none"][su_box title="Brittney Pettus" style="noise" box_color="#ddc535″]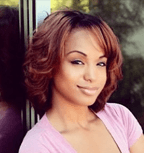 [su_spacer size="3″][su_button url="http://shire-productions.com/contact/" target="blank" style="noise" background="#ddc535″ color="#ffffff" size="6″ radius="0″ icon="icon: envelope-o"]Contact Brittney[/su_button][su_spacer size="15″]
•Actress •Comedian •Model
Brittney Pettus is an aspiring actress, who had a dream and dedicates herself to make that dream a reality. Coming from a small town, she ventured out to be the best at what is consider to her one of her biggest passions. She has studied under amazing acting coaches like Bobbie Shaw Chance, Chris Calvin Murphy, and Ellery Alexis. She has been in many short film productions, acted in a "Silence Your Cell Phones" commercial in Lancaster, CA., and has performed all over Southern California at venues such as Little Modern Theater, Ice House, Space Station Studios, and Bravery Brewing. She spent a year performing with her very first improv troupe , "The Imps" which help her breakthrough and transition to performing in front of a crowd, and her involvement in the improv troupe "The Predictables" has aided to shape her reality of doing what she loves to do best, to entertain and make people laugh. You can currently catch her performing with "The Unpredictables" and is an Artistic Director for the acting company CCM on Stage. She lives, breaths and sleeps acting. And with her beautiful daughter by her side, she hope to continue to do great things and one day see her face on the big screen.
[/su_box]
actors, actresses, dance, dancers, hip hop, jazz dancer, Manager needed, Promoter needed, silent producers needed, producer needed, seeking investors, now casting,
jazz, blue grass, country, pop, rock, Rapp,, tapp, classical,
opera, alternative, sexy, hot. swing, musical artists,comedy, music, cinema, film, movies, television, videos, internet, streaming, theater, comedy clubs, standup comedy, musical theatre, modeling, runway, photoshoot, supermodel, petit modeling, cable television, sports, singer, song writer, vocalist, cinema photographer, director,producer.
athletes, professional athletes
[/fusion_builder_column][/fusion_builder_row][/fusion_builder_container]